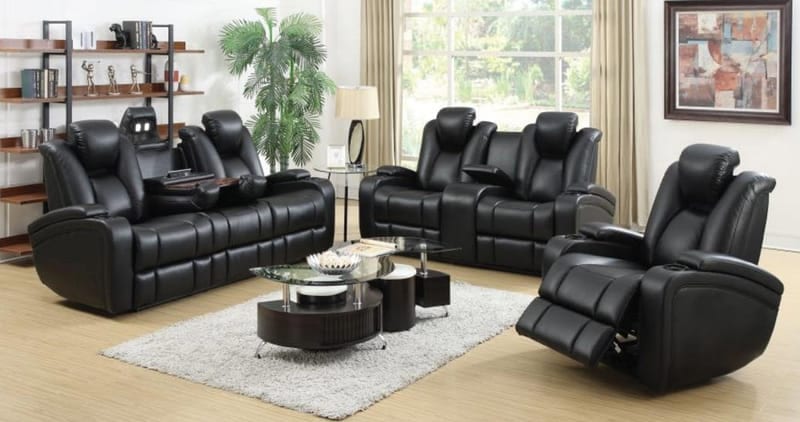 What's better than spending a good gaming night? Whether you're a solo gamer or you prefer gaming with friends, we're here to tell you that gaming night just got better! If you're a gaming junkie, you've come to the right place. All gamers know that investing in a good gaming couch makes all the difference. Because such couches are designed with gamers' needs and preferences in mind, they take the gaming experience to a whole new level. A little baffled about which gaming couch to buy? No worries! We're here to help you out with this list of our favorite gaming couches. We've also included a quick yet detailed guide on how to choose the best gaming couch.
Check out this Featured Article: Rolling Tray
Top 5 Best Gaming Couch Comparison Chart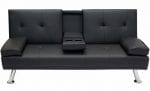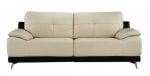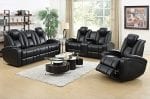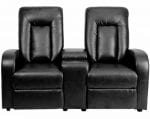 Five Awesome Couches For Gaming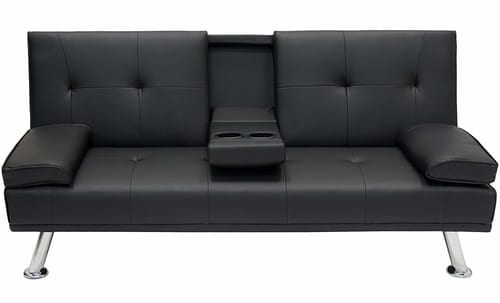 Specifications
Dimensions: 30 x 66 x 30.5 inches.

Weight: 61.73 pounds.
Overview
If your game room or the space you have available is small, then this gaming couch could be the one for you. It's quite compact and wouldn't look bulky in small spaces. The Best Choice futon sofa bed is an awesome choice for any modern living space or game room. The couch is made of black faux leather and has chrome legs that give it a contemporary look. It's designed to fit two people and can withstand weight up to 500 pounds. With its minimalist design, this gaming couch still offers a few features for comfort. The main advantage of this couch is that you can convert it into a sofa bed between gaming sessions for some rest or even use it when guests sleepover. This sofa also reclines so you can adjust it for maximum convenience. Between both seats, you'll find a fold-down armrest that comes with two cup holders to avoid spillage of drinks. You can also use the middle console to place a plate or snacks.
Things We Like
The couch can be converted to a sofa bed.

Comes at a very affordable price.

Stylish design.
Things We Don't
Made of faux leather instead of genuine leather.

Sits a little low.

May feel a little firm.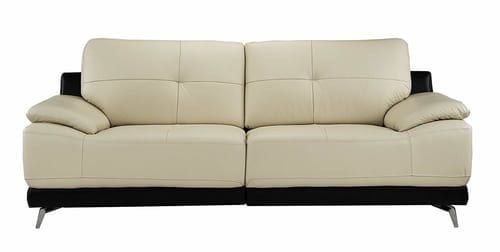 Specifications
Dimensions: 78 x 54 x 34 inches.

Weight: 180 pounds.
Overview
The Divano Roma sofa is a marvelous option if you'd like to section your gaming room or living area thanks to its versatile L-shape. The long leg rest that comes with this sofa can be placed on both sides which is a smart option. This gaming couch would be a great addition to any modern space. It may not come with reclining options or storage space but its neat design and comfortable seating make it a worthy option. The hardwood frame and high-quality leather of this couch make it durable, which is something you'll definitely need in any gaming couch.This couch is available in three different options. You can choose between black leather, white leather, or grey microfibre.
Things We Like
Chic design and cozy seating.

Leg rest can be placed at either side.
Things We Don't
Lacks convenient features like cup holders, reclining options, and storage.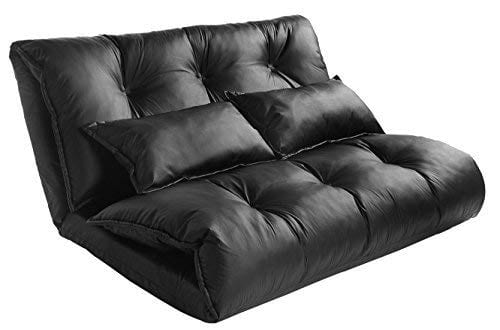 Specifications
Dimensions: 87 x 7 x 43 inches

Weight: 38.6 pounds
Overview
The Merax modern bed is a fantastic option for players who prefer low elevation while gaming. The thing we love the most about this couch is that it's so versatile and can be used in many ways. It's a cozy-looking couch that comes in black color. The couch has a metal frame for extra support and is filled with a high-density foam padding that allows for maximum comfort. The exterior material is durable PU leather. It's a great thing that you can adjust the backrest to five different positions, from a 90 degree seated position to a recliner to a bed. The two pillows that come with this couch will allow you to be seated comfortably.The Merax gaming couch is foldable, so you can leave it placed in your gaming room or you can store it easily and just grab it when it's time for an awesome gaming session. It's compact so you don't have to worry if you're gaming area isn't large.
Things We Like
The folding feature allows for easy storage.

High-density foam provides comfortable seating.

Lightweight and easy to move around.
Things We Don't
The leather may cause you to heat up and sweat.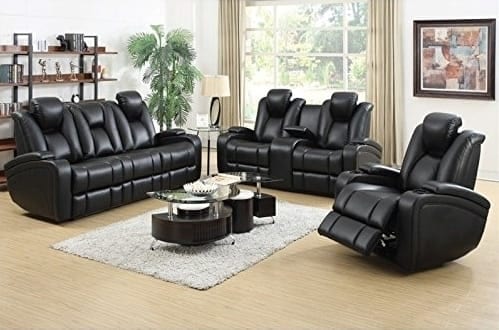 Specifications
Dimensions: 85 x 40.2 x 41.8 inches.

Weight: 97 pounds.
Overview
If you want a gaming couch that's packed with remarkable features and you're willing to pay the extra buck then the Delange reclining couch is a perfect choice. It's the largest couch on our list with three cozy seats. If you only need one or two seats, you can pull down the middle seat so you have a console. It comes in black leather with power reclining features. The headrest and the drop-down backrest allow ultimate comfort. The couch also comes with cup holders and storage spaces in the armrests to keep your little gadgets hidden. Another thing that shouts "game throne" in this couch is the LED lights which are just enough to prevent spills. Need to charge your phone? This couch also comes with a built-in USB as an added bonus!
Things We Like
Lots of convenient features like LED lights, USB port, and storage.

Super-comfortable.
Things We Don't
Expensive.

Not suitable for small spaces.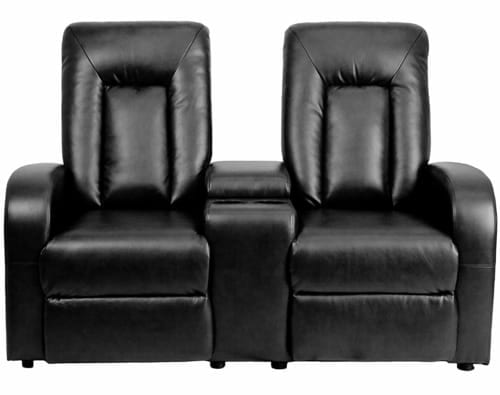 Specifications
Dimensions: 68 x 63 x 43.5 inches.

Weight: 158 pounds.
Overview
If you're up for a theatre-like gaming couch, the Flash Eclipse Series couch is the one! This two-seater black recliner looks gorgeous sitting in any gaming or living room. The couch is made of black leather with curvy armrests and a headrest for extra comfort. It also features a push-back recliner so you can snug in this cozy couch. Between both seats, there's a middle console that has two cup holders along with a storage unit to keep your gaming accessories tucked. A feature we really appreciate in the Flash Eclipse couch is that the legs come with plastic glides so you can slide it around without having to worry about the floor. This convenience feature makes it easy to move the couch around.
Things We Like
Comfortable theatre-like recliner.

Storage unit.

Plastic glides.
Things We Don't
Not suitable for small game rooms.
Your Ultimate Guide To Buying The Best Gaming Couch
From fancy couches with cool accessories to simple, yet comfy affordable options, there's a gaming couch for everyone. A gaming couch isn't your typical everyday purchase, that's why it's a good idea to do some research before buying one to ensure that you're making the right purchase. In this section, we've put together everything you need to know about buying a gaming couch.
What Exactly Is A Gaming Couch?
Gaming couches have been trending for a few years now and there's a good reason why. We all know that games could be truly addictive and gamers spend hours and hours playing. If you spend a long time in your gaming station, chances are you may get up feeling a few aches here and there if you're seating isn't comfortable.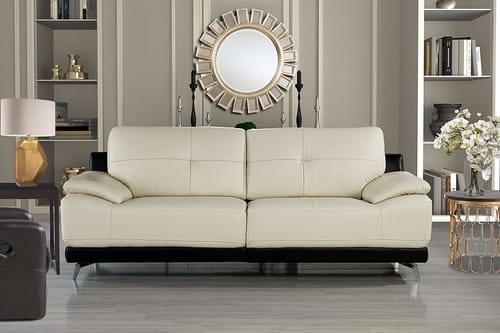 That's when a gaming couch jumps right in. Gaming couches are designed in a way to help gamers be in the most fitting position to manipulate controls while playing. A good gaming couch should impact a player's outcome. Improved posture, comfort, and better focus are some of the outcomes of a gaming couch.
Is A Gaming Couch Right For You?
The answer to that question is quite simple. If you're an occasional gamer, then buying a gaming couch isn't a worthy option. Instead, a comfortable living room sofa or chair will do. On the other hand, if you're a hardcore gamer, investing in a gaming couch is definitely a good choice to up your game.
Things To Consider When Buying A Gaming Couch
So what exactly makes the best gaming couch? It's important to know that not all gamers need the same couch. Spend a few moments to decide on each of the following factors to make sure you choose a gaming couch that's best for you.
Size
The first thing you need to consider before buying a gaming couch is its size. There are many sizes available out there to choose from. Although a deep, wide, and luxurious gaming couch may seem tempting, it's important to double check if it will fit. A number of factors affect the couch's size. For instance, do you intend to use the couch for other purposes? Perhaps taking a midday nap. Will the couch fit through the front door? Will you be using it alone or with a few friends? Answering these questions first will help you narrow out your choices. Also, it's a great idea to measure the space in which you'll place the sofa to make sure it's the perfect fit. Regardless of the size that you'll opt for, you shouldn't have any issues finding one.
Design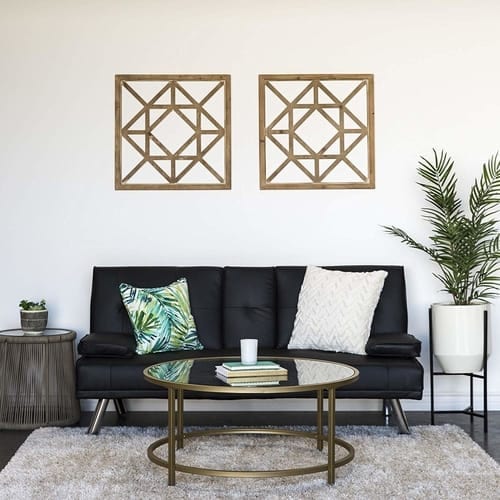 Design is something else you'd want to bear in mind. Although what the couch looks like may not be a critical factor for gamers, it's good to consider especially if you share the living space with friends or family. Of course, the ideal thing would be to choose a gaming couch that already matches your existing home decor. Gaming couches are available in different designs so whether you're looking for a modern-looking couch or a traditional one, you shouldn't struggle to find the perfect match.
You can choose from a loveseat, two-seat sofas, three-seat sofas, four-seat sofas or corner couches. For instance, if you have a large space at hand, a corner couch is a great option to consider. It's also useful if you plan on having people over.If you don't have much space available or you're usually a solo-gamer, then a loveseat or a two-seater may be a better option.
​Features
Gaming couches vary greatly when it comes to features. A really cool option that comes with some couches is the ability to fold to sofa beds allowing you to rest between gaming sessions (and works well as guest beds too!). Other couches may be recliners allowing you to adjust the back and leg rest for maximum comfort. Cup holders, snack tables, and storage are also features found in gaming couches to avoid spilling drinks or food. Moreover, charging stations and USB ports are options that add value to your couch. If you're interested in an advanced gaming station, buying a gaming couch that allows connectivity with consoles and speakers is a good idea.
​Material
Gaming couches are usually made from leather, leather-like material, or fabric. Usually, all gaming couch material are comfortable so you won't have to compromise on performance. Leather material is, of course, easy to clean in case of spills. You can simply wipe it clean with a cloth. The downside of leather material though is that it can cause you to sweat. To solve this issue, you can opt for breathable leather. Fabric, on the other hand, won't cause you to sweat but it's more difficult to clean.
The Final Verdict
There are many fantastic options out there but after reviewing our five favorite couches for gaming, we found that the Delange Reclining Power sofa is our favorite. This couch is literally packed with awesome features. Whether it's the armrest storage, the cup holders, the LED lights, or the built-in USB, this couch is a real gaming throne! It's large enough to fit three players and it's comfortable for long gaming sessions. The power reclining feature and the drop down backrest add to the convenience of this couch. Check it out here. If this couch is a little out of budget, no worries! You can still enjoy an awesome recliner at a much more affordable price with the Flash Furniture Eclipse Series recliner.