| | | |
| --- | --- | --- |
| DPI | Sensitivity X | Sensitivity Y |
| 800 | .100 | .070 |
| Hz | Targeting Sensitivity | Scope Sensitivity |
| 500 | .300 | .300 |
| | | | |
| --- | --- | --- | --- |
| Wall | Floor | Stairs | Roof |
| Mouse 4 | Q | Mouse 5 | L-Shift |
| Trap | Use | Building Edit | Reload/Rotate |
| 5 | E | F | R |
| Crouch | Sprint Default | Inventory | Map |
| C | On | Tab | M |
Gear Reviews
Before getting into the nitty-gritty of the PC builds, let's first take a look at Ninja's basic gear, including his gaming monitor and headset. Moreover, we'll be reviewing the keyboard and mouse that Tyler uses to lay waste to his enemies in full detail.
Alienware accessories have grown to be a staple amongst the gaming community as they help elevate the gaming experience to new heights by offering an immersive performance that allows you to journey deeper into the limitless world of video games, and the AW2518H gaming monitor is no different.
This Alienware monitor offers super smooth and responsive gameplay with rapid refresh rates that could reach up to 240Hz and a 1ms response time. Further, the NVIDIA G-Sync technology equipped within this monitor allows you to enjoy incredibly sharp and distortion-free images. The graphics are tear-free and don't require any adjustments from the user.
The premium built 25-inch gaming monitor has an easy-to-adjust thin design with a black and silver chrome finish and the classic Alienware lighting and badge, maintaining the look and feel of Alienware desktops. The easily adjustable height, tilt, swivel, and pivot features play an important role in helping you find an ideal and comfortable viewing position.
The AlienFX addition provides a customizable RGB lighting effects system that sets up the atmosphere for gaming by producing very dynamic light effects directly tied to the gameplay for a more immersive experience. Also, the on-screen display gives you a variety of options and preset game modes that will keep you in a gaming state, along with guidelines for those who would like to have multi-screen setup.
A few tech specifications that you should be aware of before purchasing this monitor is that it weighs around 15 pounds, has a maximum preset resolution of 1920 x 1080, an aspect ratio of 16:9, 400 nits of brightness, and a 170/160-degree viewing angle. It comes with a DP cable, USB 3.0 upstream cable, and a power cable. Available ports and slots include DP1.2, audio out, USB3.0 (4x), upstream, headphone jack, and HDMI1.4.
To get a general idea of why this mouse is a favorite of Ninja and many other users that have purchased it, all you have to do is look at its name. The Air58 is a mouse that weighs 58 grams, which is around 0.128 of a pound, making it as light as air in your hands.
The way this mouse feels makes ultralight objects seem heavy in comparison. The Air58 is one of the best in input latency and class sensor, making it a great esports mouse.
The Air58 features hand-painted Haiku Scrolls that are engraved on every mouse for an individualized look. The scroll wheel is made with improved raw materials that ensure its longevity.
The mouse also features a phantom cord that enhances its freedom. This mouse has a very firm and stable grip, thanks to the lattice geometry on its sides and the bottom chassis. However, some may feel that what this mouse has to offer doesn't quite justify its relatively steep price tag.
What good is a mouse without a gaming mouse pad that allows you to use it at its full potential? The HyperX Fury S offers anti-fray edges that are seamlessly stitched to give you a uniform surface that's resistant to wear and tear. Further, the surface of the paired is made with densely woven fabric that allows for maximum wrist comfort. Furthermore, the underside is made with textured rubber for a better holding during duress.
The HyperX Fury S gaming mouse pad is available in multiple surface options there are built for speed or precision, you can either pick a pad with a surface that's optimized to minimize friction, and therefore enhance the overall speed, or choose a pad that's optimized for higher precision. This gaming pad is available in 4 convenient sizes to fit various space requirements and can be rolled up for much easier portability.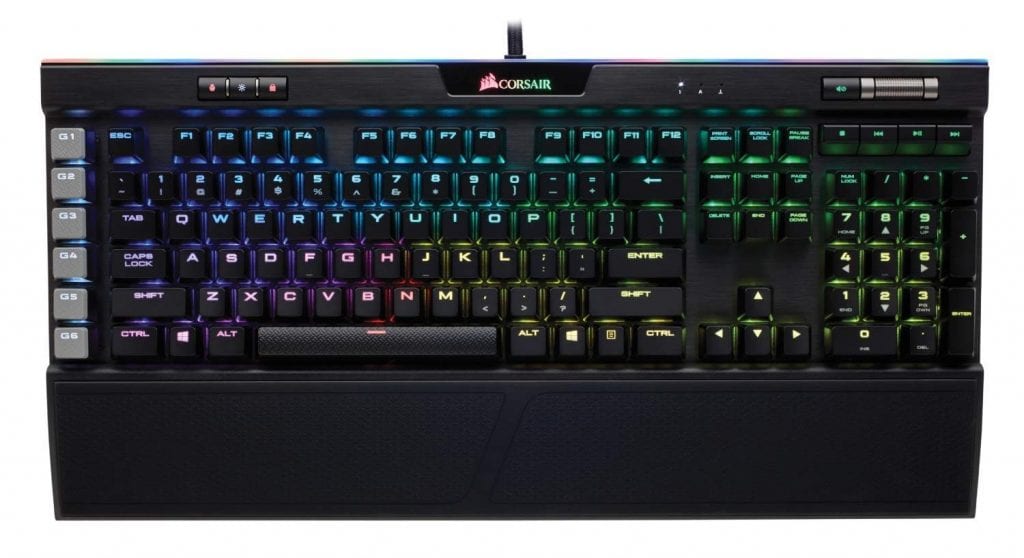 This mechanical rapid-fire gaming keyboard has an aircraft-grade silver anodized aluminum frame that's very lightweight and extremely durable. Equipped with the CHERRY MX Speed mechanical switches, this keyboard grants you the rapid-fire advantage at a super fast 1.2mm actuation that provides great reliability and the superior accuracy that all players seek to have in a heated Fortnite battle.
You also don't need to worry about the keycaps wearing out from the sweat of war and your daily dose of rage quitting, the PBT double-shot keycaps hold extreme durability with a very unique look.
The K70 RGB MK.2 SE keyboard comes with the powerful CORSAIR iCUE software that allows for sophisticated levels of macro programming. Additionally, the software provides full-system lighting that synchronizes with all compatible CORSAIR peripherals and accessories. Not only that, but it also has the ability to produce a radiant multicolor illumination that integrates perfectly with the gaming atmosphere.
The keyboard has 8 megabytes of onboard memory and hardware playback that allows you to access up to 3, external software independent, stored profiles on the go.
The CORSAIR gaming keyboard is accompanied by a bunch of extras like the USB pass-through, detachable soft-touch wrist rest, and dedicated multimedia control that allows for easier playing by keeping your PC at your fingertips.
Another neat addition is the dynamic multicolor RGB LED backlights that offer a seemingly endless array of color customization and control per each key on the keyboard. The dimensions of this keyboard are 17.2 x 6.5 x 1.5 inches and it weighs at 2.76 pounds. Definitely one of the best K70 gaming keyboards on the market.
The DT 990 PRO is a professional studio headphone that offers a very spacious sound for a long yet comfortable listening session with a transparent sound and highly detailed resolution, allowing you to detect enemy footsteps clearly without any confusion regarding the direction they're shooting or attacking you from.
These studio headphones are utilized as a reference point for major studios and are used by many audio engineers and producers, which gives you an idea of how reliable they are. Even the slightest adjustments in EQ, panning, or the overall dynamics of sound can be easily heard.
The open design of these headphones makes for an airy sound that has a very rich sense of depth that complements a wide range of room acoustics. The frequency response that DT 990 PRO is highly detailed, thanks to the enhanced treble and the controlled bass.
You'll have an easy time hearing low frequencies clearly in a not so overbearing fashion. Further, you'll find the top end frequencies very pleasant to the ear, unlike a lot of headphones where high frequencies are usually too shrill for the ears.
The steel headband keeps the headset balanced on your head and gives it a very secure fit. The ear cups are soft and easily adjustable, which adds to the level of comfort that many gamers require to sit through extended periods of competitive gaming.
The DT 990 PRO comes with a one-sided cable that can accommodate frequent adjustments. It also allows you to remove the headset without the inconvenience of cable tangles. Overall, the headset has a very lightweight construction that makes it really easy and comfortable to wear.

You should know that the DT 990 Edition version is slightly different from the DT 990 PRO studio headphones. While both versions are identical in terms of sound as they both utilize identical sound transducers, the Edition models tend to have a softer headband, different from the slightly tighter ones on the PRO models, which allow them to stay in position even with frequent movements during a studio session or an intense gaming competition. Additionally, the PRO version is accompanied by a spiral cable, while the Edition model comes with a straight cable.
Ninja's Gaming PC Build
This is probably the section of the article that every hardcore gamer is seeking out. What type of heavy-duty gaming PC build does Ninja use to get maximum FPS rates during his daily gaming marathons that reach up to 12 hours? Let's find out.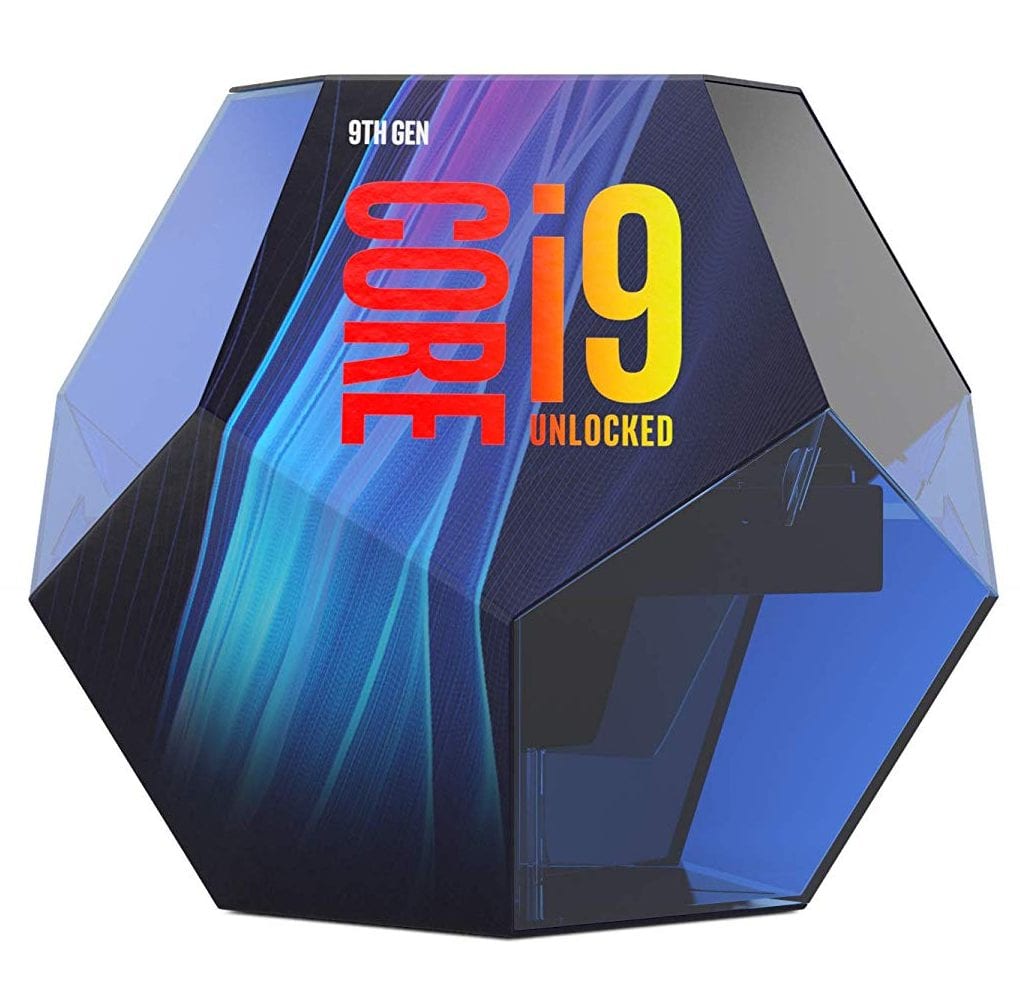 The Core i9-9900K has become one of the most talked about processes on the market since its release. While Intel might be a bit late to join the octa-core processor party, it's still a very impressive debut, nevertheless.
The Core i9-9900K boasts an increase in processing power that's second to none, which doesn't just solidify it as "the best CPU for gaming", as deemed by many professional gamers because of its high clocks and its 16-thread/8-core design, but also makes it an ideal choice for video editors and Photoshop masters.
Higher clocks and a few additional cores aren't just the only attributes that the Intel Core i9-9900K possesses, here is a brief breakdown of some of its key features. Firstly, this powerhouse processor is equipped with the Intel Turbo Boost Technology 2.0 that increases its frequency dynamically up to an incredible 5.0GHz when a heavy-duty application demands more performance power. In a nutshell, it provides you with speed whenever you need it and with energy efficiency when you don't.
The hyper-threading technology allows each one of the 8 cores to work on 2 different tasks simultaneously, which adds up to a total of 16 independent tasks. By unlocking such parallel processing capabilities, this processor provides superb multitasking performance. Further, the 16 megabytes of shared smart cache allows for faster data access through efficient and dynamic allocation of the cache. This helps reduce any data latency and improves the overall performance significantly.
CPU overclocking is enabled with this processor, which gives you access to fully unlocked core multiplier, memory ratios, and base clock. Moreover, per core overclocking provides great flexibility and you have the option to modify the power settings. It's not just that, graphics overclocking is also enabled, unlocking the multiplier that boosts the graphics clock speed. Both overlooking capabilities are found with the Intel Z390 or Z370 chipsets.
The integrated memory controller allows the Intel Core i9-9900K to supports 2 DDR4-2666 memory channels at 2 DIMMs per each channel. Memory support is based on Intel XMP, or extreme memory profile specification. The PCI Express 3.0 interface can support up to 8 GT/s and allows networking with 16 lanes. The lanes configuration can be 1×16, 2×8, or 2×4 and 1×8, which depends on the design of the motherboard. This processor is compatible with the Intel 300 series chipsets, along with the latest drivers and BIOS.
Intel UHD Graphics 360 provides 3D performance that supports Ultra HD 4K resolution and Microsoft DirectX 12, allowing for stunning graphics and an immersive gaming experience. The frequency of the UHD Graphics 630 ranges up to 1200MHz. It also supports Intel Quick Sync Video Technology and Vibrant Media. This CPU features hardware-level fixes that eliminate the fuss regarding variants of the Meltdown, Spectre, and L1TF exploits.
The long-awaited introduction of the GeForce RTX 2080 and RTX 2080 Ti from NVIDIA has launched their GeForce RTX 20-series, which happens to be in a time when silicon fabrication technology wasn't really showing any signs of moving forward.
What makes the RTX series different from its predecessors is that it has allowed game developers to fuse ray-traced objects into rasterized 3-dimensional scenes.
The results have surpassed whatever milestones rasterizing has achieved in terms of graphics. However, such results required a whole lot of computer power, and therefore, NVIDIA has implemented the use of RT cores, which are hardware components on their GPUs that work simultaneously with the CUDA cores.
The RTX 2080 Ti is designed to withstand 4K graphical demands with ease and bring the power of real-time ray tracing to your gaming experience, along with tons of features that enhance VR applications. So without further ado, let's get into the features.
The RTX 2080 Ti features VirtualLink industry standard that enables next-generation VR headsets to connect to computers using a single, high-bandwidth Type-C USB connector, this helps to simplify and speed up the time taken to set up the VR gear.
When connected with VR headsets, VirtualLink grants you 4 high-speed, scalable for future use HBR3 DisplayPort Lanes and a USB 3.1 Gen 2 channel that supports HD sensors and cameras. Not only that, but it can also provide up to 27 watts of power.
For additional transfer bandwidth and a smoother gameplay, you can purchase the NVIDIA GeForce RTX NVLink Bridge, which provides up to 50 times the available transfer bandwidth.
The RTX 2080 Ti is SLI Ready, meaning you can connect 2 or more GPUs of the same model to achieve greater processing power by using a connecting bracket on a compatible motherboard. You can also adjust and customize how your array of GPUs work together depending on your preferences.
Additionally, the alternate frame rendering feature allows each one of your GPUs to prepare the next frame in an alternating fashion, which helps increase the maximum frame rate output of a single card. NVIDIA's Scalable Link Interface can also be used to enhance anti-aliasing through parallel image processing which takes place before the filtration of jagged edges.
This GPU also allows the refresh rate of monitors with G-Sync hardware to sync with the output frame of the card and lock onto it, which helps eliminate any stuttering, or in other words, frame drops, and maintain a fixed screen refresh rate. This feature is found extremely useful for 3D gaming and helps reduce lag significantly.
Moreover, CUDA, the parallel computing platform from NVIDIA, dramatically enhances the computing capability of the GPU. Applications that are compatible with CUDA technology will assign parallel computing tasks to the GPU to process instead of having the CPU tackle them, which frees up the processor to handle other tasks as a result.
Another cool addition that all gamers, streamers, and photo editors will appreciate is NVIDIA Ansel. If you're wondering how gamers can easily compose the shots they want and point the camera towards the direction they desire from any vantage point while gaming, this feature is the answer.
With Ansel, you can take screenshots of up to 32 times the screen resolution, and then manipulate them with photo filters and effects without losing fidelity even at extreme zooming. And for VR enthusiasts, you can capture 360-degree photospheres and view it using your Google Cardboard or your VR headset.
NVIDIA GPU Boost 4.0 helps manipulate the GPU's clock speed depending on the target temperature. Basically, if the card is functioning at a temperature below the set target temperature, the GPU boost 4.0 feature will boost the clock speed and improve the performance as a result.
You also have the ability to set the target temperature that suits your needs. This way, the card will run quietly for less demanding applications, and function at its full potential when tackling intense, high-resolution video games or software.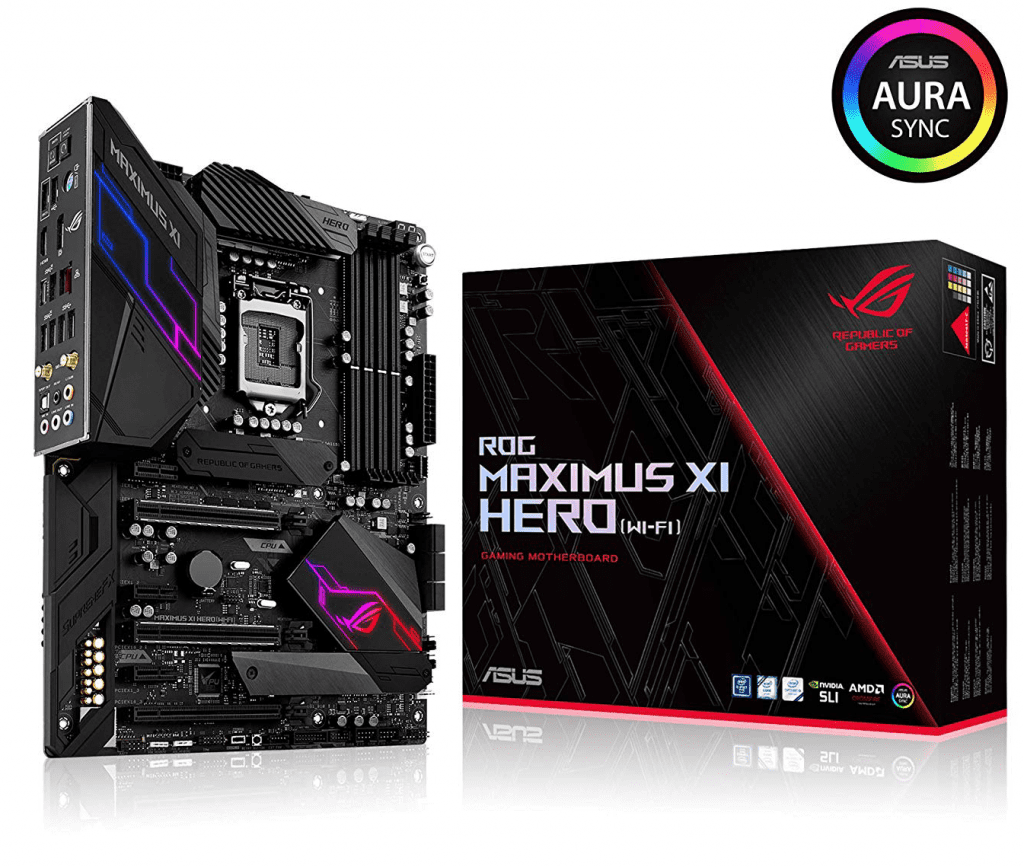 The ROG Maximus XI Hero from ASUS is one of the most powerful Z390 gaming motherboards and is considered by many as the best introduction to the Republic of Gamers.
Many gamers opt for the Hero series as their go-to board because they get to enjoy all the ROG Maximus features without the hassle of paying flagship prices, like Formula and Extreme motherboards. Such features include single-click AI overclocking, multi-zoned aura sync illumination, pre-mounted I/O shield, and dedicated water-cooling headers.
The ROG firmware also helps maintain stability when performing at maximum memory capacity. If you're planning on putting your computer through heavy multitasking, it's preferred to utilize a high-density memory kit or a highly focused setup that grants you the required bandwidth that allows you to enjoy demanding applications.
The Hero also offers you a variety of tools that allow you to utilize the Coffee Lake architecture's full potential, this includes trace pathways that maintain the integrity and strength of the signal.
The Maximus XI features its very own onboard clock generator that surprise the cores of the CPU and the major subdomains with dynamic reference clocks, giving you complete freedom in arranging each headroom MHz. It also features multiple cooling options that help maintain thermal efficiency and keep it under control.
You'll find that the cooling controls are very comprehensive and informative. You can easily change the settings of the cooling system using the UEFI BIOS or the Fan Xpert 4. Additionally, the Maximus XI Hero supports the latest high-performance memory.
The trace routing system incorporated within this motherboard, OptiMem II, allows the latest CPUs from Intel to gain unrestricted memory bandwidth access. The way this takes place is through plotting memory pathways that go across numerous PCB layers, which helps lessen vias. Further, this helps reduce crosstalk by increasing the number of shielding zones.
This motherboard is also equipped with a customized T-Topology design that improves overclocking headroom for stacked configurations through time-aligned signaling.
ASUS has also incorporated a few tools that help give you the ultimate command of your rig and the ability to tweak everything within the system, along with the ability to fine-tune things like storage and audio. Whether you want to gain full control by immersing yourself in the UEFI BIOS or you would like to utilize smartly automated tuning, the 5-Way Optimisation Technology is there to help you.
This board is also equipped with Aura Sync Illumination which synchronizes with all ROG components to give you limitless personalization possibilities.
Like its predecessor, the Trident Z, the Trident Z RGB has the same brushed black aluminum frame on one side, with the other side having the same color pattern but with a shade of gunmetal grey.
The reason why this memory kit stands out, however, is the addition of the RGB lit bar placed on the top of each module that gives it a unique look. The lighting can be controlled using G.Skill's software or with ASUS' Aura Sync. Do you see how everything just works together?
The Trident Z memory kit boasts some of the most impressive specific patients on the market today as they hold some of the fastest clock speeds among all other memory kits that can reach up to 4266 MHz.
The specific kit we're discussing here is optimized to function at a clock speed of 3600 MHz and it consists of 4 x 8 GB DIMMs, giving you a total of 32 GB. Some might think that having 32 GB of memory is a bit overkill even for hardcore gamers, but it's always nice to have more.
The tested latency of this memory kit is of CL16 and it has a 16-16-16-36-2N timing, much quicker than a quicker than the 16-18-18 latency. Further, the reference voltage is set at 1.35V. The kit is also compatible with Intel's XMP 2.0.
Using the BIOS found on the latest Intel boards, you can easily set the kit to its rated clock. You need to make sure that your high-end motherboard is capable of supporting memory kits of high clock speed for you to utilize the Trident Z.
If you're a hardcore Ninja/Fortnite fan and you just want to stand out from the other 99 players while showing Ninja some love, then this is the absolute best PC case that you can get your hands on.
The H700i Ninja Edition shares pretty much all the same features as the regular H700i, in addition to Ninja's famous logo etched into a tempered-glass panel on the side, personally selected artwork by Tyler himself, and also 2 unique Ninja style stickers.
This PC gaming case features a sturdy all Steel construction that will stand the test of time, along with an attractive tempered-glass side panel. Not only that, but this case also features RGB lighting that integrates perfectly with all the RGB components reviewed above, and it has a digital fan controller that's powered by CAM.
The PSU shroud and cable bar accompanied with this case have the NZXT signature. Moreover, the cable management system in this gaming case is super builder-friendly and will save you a lot of time.
The new cable routing kit has pre-installed straps and channels on the back of the motherboard which helps you get through the wiring stage with ease. Also, the cable bar is now upgraded to be adjustable. There is a quick release switch on the right panel of the case which allows quick and easy installation of any new upgrades or components.
The thing that makes this gaming case extremely recommended is that it allows you to enjoy the PC building phase as much as you enjoy gaming.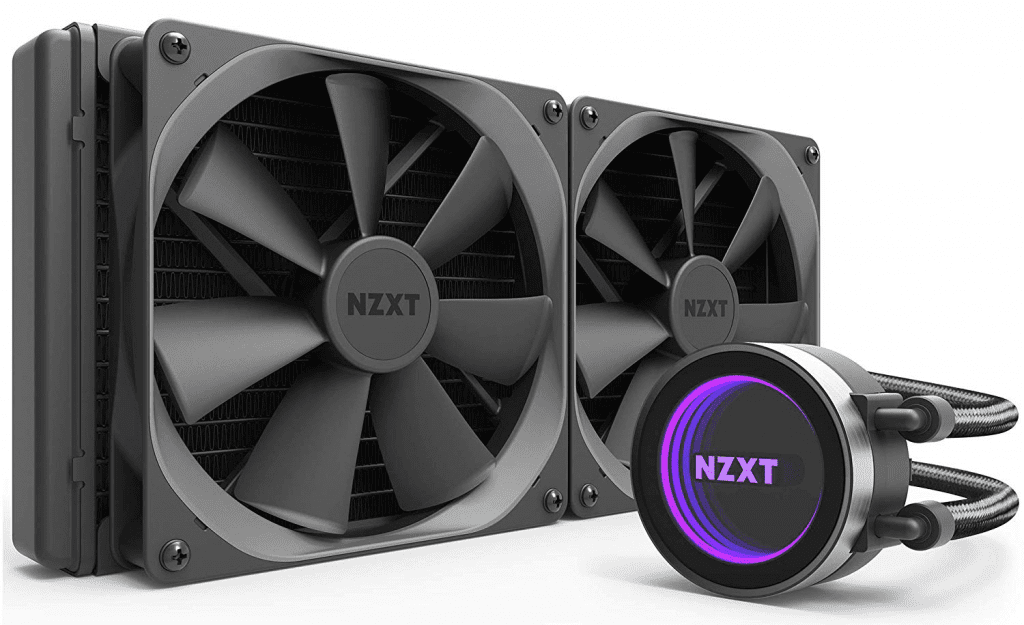 The NZXT Kraken X62 is a 315x143x30mm premium cooler that features a 280mm radiator and a 5th generation pump from Asetek. It has a count of 16 FPI with 12 channels. The radiator holds a sufficient thickness of 30mm.
You'll find that there is a 120mm spacing between the mounting holes, but you should steer away from using larger screws to mount the cooler as the mounting holes don't have a protective cover underneath them, which can cause damage to the fins.
The aluminum fins make this cooler extremely lightweight. The tubing is extremely flexible and has an approximate length of 380mm. The Tipping system is made of an evaporation rubber material that's extremely lightweight. It's also reinforced with nylon sleeves to enhance its durability and give it a sleeker look.
The bottom chamber of the double chamber block hosts the 5th generation pump from Asetek, which provides it with a quiet and efficient cooling performance. The chamber also houses a power cable header and a mini USB header.
The upper chamber, on the other hand, is where the cooler quite literally starts to shines. The upper chamber has an infinite mirror design that's equipped with RGB lighting, creating some vivid 3D effects.
The tubing system is connected to the 80x80x52.9mm pump housing at a 90 degrees position, which might give the first DIMM slot some clearance issues. While you might have some cable management work to do with this cable, the flat power cable set will help reduce the hassle.
The 2 AER P fans provided in this package are of 140x140x25mm dimensions and have a chamfered intake and exhaust design. They're primarily designed to provide better airflow to the water cooling radiator and they have a lifespan of over 6 years.
The blades utilize copper Fluid Dynamic Bearings which help improve the lubrication and thus increasing the lifespan of the fans. The design of the fans helps them reduce any form of drag as they're winglets on the tips. The fans have a PWN design with a 4-pin PWM connector.
The Kraken cooler uses CAM's software to independently tune the settings of the fans and pump, giving you full control over its performance.
While not the fastest on the market, BarraCuda hard drives from Seagate provide a reliable and cost-effective way of upgrading the performance of your computer with a superior, 5400 RPM internal storage capacity. The Seagate Secure models offer data security that's hardware-based. Further, the SATA 6 GB/s interface makes for a robust performance.
Like all BarraCuda hard drives, this model is equipped with MTC, short for multi-tier caching technology, which helps optimize the reading and writing capabilities. This hard drive has 2 times the speed of the standard drive in terms of booting and loading applications.
Relative to the release of the 900P series, the newly released 905P series takes the performance achieved by its predecessor to eleven by undergoing some major firmware and controller tweaks. Some of these tweaks include the improved read of 2600 MB/s instead of 2500 MB/s, and the sequential writes were taken from 2000 MB/s to 2200 MB/s.
For Random 4K performance, the reads jumped from 550,000 IOPS to 575,000 IOPS, while the writes were enhanced from 500,000 IOPS to 575,000 IOPS as well. Additionally, Intel has introduced a 960GB model for the 905P lineup, increased the upper limit of its operating temperature range from 70°C to 85°C, and added some cool LED lights to it.
The 905P series SSDs have impressive ratings of 10 full writes per day that span over a 5-year course, which means that you can use the 905P to write a substantial amount of data over a period of 5 years, which also happens to be its warranty period. The 960GB drive can withstand an impressive 17.5 PB of data over its lifespan. In terms of pricing, the Intel Optane 905P drive doesn't differ much from DSSD 900P series, both being very expensive.
Inside the package, you'll find an Optane 905P PCIe Express Add-In-Card, along with a half-height PCB. Both brackets included are to simplify the installation process. There is LED illumination along the top and bottom of the front heatsink. You'll also find a great heat spreader on the back that helps with the dissipation of heat.
Power supplies are often overlooked in the process of building a new PC, however, they're equally as essential as all the other components of your build. Modern PCs tend to have relatively high power requirements, and so a reliable and stable power supply that's able to deliver clean and sufficient power is crucial to the performance of your computer.
NZXT has recently dropped a new line-up of powerful PSUs with the E series, this series combines the CAM software with the Seasonic Focus Gold platform technology, giving us compact units that tout 80 PLUS Gold support available in 500W, 650W, and 850W capacities.
The E series still uses the same robust 150mm x 150mm x 86mm casing. The firm hasn't suffered any sort of overkill in terms of visuals such as RGB illumination. The relatively wide grille does a good job of providing the 120mm Hong Hua FDB fan with great airflow.
The fan is switched off when the PC is in an idle state and it's programmed to automatically be turned on when the load reaches 100W. And though the range of the chassis is still the same, the expansion of wattage will require more cabling provision.
All real-time information regarding the GPU, CPU, and many other components of your computer are individually presented, making the user aware of the exact amount of power that's drawn from such essential components. This is achieved by adding a UCD3138 digital signal processor to utilizes the power management bus and provides the CAM software with accurate information about the power output by rail. The user is also provided with data regarding the total power-on hours and the temperature.
The CAM-compatible NZXT AER RGB fans deliver a quiet and cool airflow with advanced lighting optimization that makes for a cool aesthetic. Not only are fans compatible with CAM, but they're also compatible with HUE+, which unlocks a variety of lighting options that are designed primarily for the Aer RGB.
The Aer RGB is capable of supporting up to 5 fans that you can link together and designate them to groups for each HUE+ lighting channel. Aer RGB also includes the lighting presets provided by HUE+, in addition to a number of exclusive modes including RPM mode.
The winglet-tip design of the fan blades allows them to achieve optimal airflow while maintaining an almost noiseless performance at around 22 to 33 dBA . Further, the fluid dynamic bearings help keep the noise to a minimum and ensure a long-lasting and silent operation.
The 8 LEDs and the unique light guides design within the Aer RGB fan help achieve an even light dispersion. The overall weight of the fan is 182 grams, which is very light, and it runs at a speed that varies between 500 and 1500 RPM. The fan uses a 4-pin PWM connector.
Ninja's Streaming PC Build
Now, let's move on to Tyler's streaming build. The build is almost the same as the previous one but with a change in CPU and motherboard. The same GPU, memory, and case in Ninja's gaming build are being used in his streaming PC.
Playing modern-day video games requires a heavy-duty PC build to be able to run smoothly. Streaming the whole gaming experience, however, requires much higher specifications to be executed properly.
The Intel Core i9-7940X CPU provides your desktop system with uncanny computing capability by offering up to 14 cores operating at a stock speed of 3.1 GHz, allowing you to tackle the most demanding workloads you can possibly imagine, one of which is streaming a high-resolution video game.
The maximum turbo frequency achieved by the 14 cores can reach up to 4.3 GHz when running intensive tasks, while the best performing cores are able to run at a speed of 4.4 GHz by utilizing the Intel Turbo Boost Max Technology 3.0.
The Hyper-Threading Technology from Intel enables each core in the processor to tackle 2 instruction threads, which gives you the ability to handle a total of 28 threads. Additionally, this unlocked skylake-x processor can be overclocked over its maximum speed.
The only downside to this X series processor is that it's not bundled with a fan or a heatsink, forcing you to purchase a separately-sold CPU cooling solution so that it can function at such high levels of performance.
The Core i9-7940X processor is capable of providing 44 PCI Express 3.0 lanes to a variety of PCIe-based M.2 SSDs and graphics cards. However, this processor is only compatible with motherboards that have LGA 2066 sockets.
The CPU also has a 165-Watt average power requirement. This CPU supports DDR4 2666 MHz memory modules in a single-, dual-, or quad-channel configuration when installed in a motherboard. There is also 19.25 MB of L3 cache that's available for the processor's 14 cores.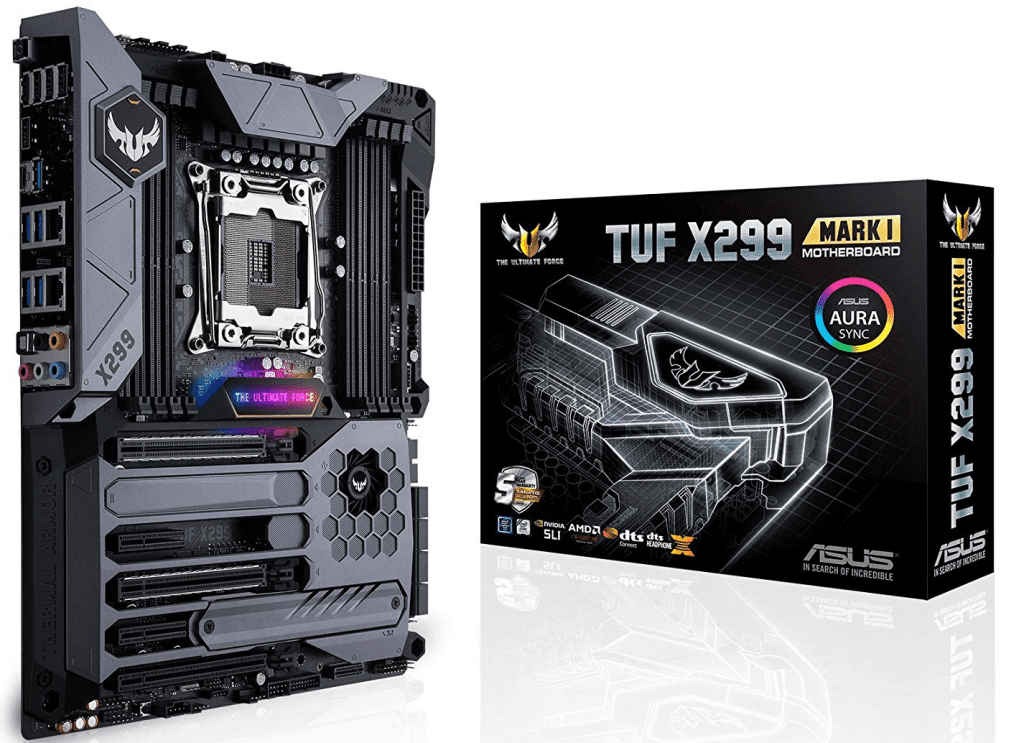 The TUF Mark 1 is one of the most reliable and durable motherboards on the market today and it's favored by gamers and enthusiasts. This motherboard sits right in the middle of the pack when it comes to the ASUS product stack and it has the same notable features found on its predecessor, while enjoying a few updated features and themes of its own.
The TUF lineup is basically an expanded lineup of motherboards from the X99 chipset with the X299 Mark 1 and Mark 2. Being the more feature-rich model, the Mark 1 has 8 SATA ports, 2 ethernet ports, and a front USB 3.1 header. It also boasts the complete armored body.
The Mark 1 holds 3 full-length PCIe slots for GPUs and can support up to 3-way SLI and Crossfire. 3-slot graphics cards can fit in the main GPU slots, thanks to the physical configuration of the slot.
The 2 M.2 slots connected by the chipset, one of which supports SATA and PCIe, while the other slot only supports PCIe devices. All 8 of the SATA ports are natively connected via the chipset. 4 of the SATA ports (5/6/7/8) share the same bandwidth as the second PCIe 4x slot.
You can connect to this motherboard with a phone app via the included Bluetooth module, the purpose of this app is to guide you through debugging. At the top of the motherboard, you'll find Q-LEDs that help you tell when the board is stuck during POST.
There is a Type-A USB 3.1 port and a Type-C one, both managed by the ASMedia 3124 controller. The front panel has another Type-C port that's handled by an ASMedia 1543 switch. Further, there are 8 USB 3.0 ports, 4 of which are at the back panel and the other 4 via internal headers. Furthermore, there are 6 USB 2.0 ports, 4 at the back panel and 2 via internal header.
The Mark 1 uses an Intel I211-AT Gigabit LAN controller and an I219-V Gigabit LAN controller for its network duties. The Turbo LAN software allows access to both controllers for such network functions like routing and traffic monitoring. The board, however, lacks Wi-Fi capabilities. Features like Multi-Core Turbo are optional and can only function when XMP is enabled.
Ninjas Gaming Studio Setup
In this final section of the article, we'll highlight and review all the different products in Ninja's gaming studio setup, this includes the microphone, control panel, chair, amplifier, and a few other components as well.
The RE-20 from Electro Voice might seem like just a simple dynamic microphone with a sleek, beige color story, but behind that simplistic vintage style lies true power. This cardioid microphone is more of a studio microphone that's used for recording different instruments, especially the ones with a low sound like a bass guitar because of its relatively large diaphragm and it's internal shock mount.
However, the microphone can also be utilized for vocals, thanks to its internal pop filter and shock mount to any unwanted sound intrusions. So basically, whether you want to switch from being a gamer/streamer to a musician, this microphone is a jack of all trades.
A bonus point to this microphone is that you don't have to buy a separate pop filter for it as it comes equipped with its own built-in filter. Further, the sides of the microphone are covered with blast and wind filters that help reduce unwanted vibrations. Furthermore, the internal shock mount also helps reduce unwanted noise picked up by the microphone.
One thing you should keep in mind while recording is that the microphone is extremely sensitive from the front, moderately sensitive from the sides, and less sensitive from the rear because of its cardioid design.
If you would like to use the microphone to capture off-axis sounds, you can place the microphone to the side of the amplifier's cone, this way you can capture a sound that's different from the one captured when the microphone is on-axis to the amp.
This microphone is extremely sturdy, thanks to its steel construction and the steel mesh covering its acoustic openings, so you don't have to worry about it breaking when subjected to some sort of impact. When not in use, it's recommended that you toss the microphone and jam it inside the case with the rest of its equipment.
The RE-20 can enjoy a high level of abuse and still managed to function properly and so it's often a solid go-to choice for professional sound engineers. Whatever recording task at hand, the RE-20 is sure to do it justice.
Rode PSA1 is an incredibly flexible microphone boom arm that's designed various recording settings such as broadcast, radio, studio, and even for personal home use. This arm offers a vertical reach of 840 mm and a horizontal reach of 820 mm, with the ability to rotate a complete 360-degree rotation.
Further, the PSA1 has both desk-clamp and desk-insert attachments, along with velcro cable wraps. Search attachments allow this boom arm to be mounted on desks up to 55 mm thick in terms of the clamp and 70 mm in terms of the insert.
The PSA1 arm is able to support microphones that weigh between 700g and 1.1kg when you combine it with shock mount. The shock mount for this stand is sold separately, but it's no big deal since the above-mentioned microphone comes with its own shock mount.
There are, however, a few things that you should consider before purchasing this boom arm period one of which is that Amazon is the only official face from which you can buy this product. Purchasing this product from an unauthorized dealer will eliminate any sort of warranty or guarantee from the manufacturer.
In the package, you won't just find a standard itself, but it will be accompanied by a desk clamp, desk insert, arm, attachment pin, locking nut, thumb screws, and velcro tags.
The ATEM Television Studio Pro 4K is a fully integrated solution the features a professional and easy-to-use M/E control scheme. Beginner users can also utilize this panel as a basic A/B control scheme as many might feel intimidated by M/E approach, which really isn't a hard thing to pick up once you try it.
This control panel features 8 separate video inputs, 4 of which are HDMI inputs, while the other 4 are SDI. These inputs give users the ability to utilize a variety of cameras without the need for conversion. The most frequently used inputs by gamers are, of course, the HDMI inputs as they allow for such sources as video games and media players to be added to the production.
The panel includes a built-in LCD screen that allows for easy navigation. It also includes a robust SDI program output and a robust AUX SDI output that help in the process of recording clean, signal-free takes. The multi-view option is extremely helpful for M/E switching, and accordingly, the HDMI and SDI outputs ensure that the switcher is compatible with various monitors.
The audio controls on the ATEM are also robust, this includes 2 XLR inputs and jacks for headphones and microphones. You can also mix and route the audio inputs from the HDMI and SDI video inputs independently.
This control panel has primary and advanced video mixing functions, combining the best of both worlds when it comes to software-based switching and hardware-based switching. The panel can be connected to a laptop via ethernet for more delicate customization and control. Not only that, but the ATEM can be configured to feature network-based control in which the user can control the panel remotely from anywhere around the world.
While small, portable, and relatively lightweight, this panel is sturdy enough for demanding fields of work. There are buttons on the surface of the console that are dedicated for transitions, video sources, styles, and many other advanced features. Source-level audio faders, transition slider, and talk-back controls are also included, along with a full library of buttons dedicated to DVA transitions.
The ATEM Television Studio Pro 4K also features a few functions that are meant for professional switches. These functions include a dedicated upstream and downstream keying, SDI camera-specific communications, a stills media player, and programmable macros for complex actions.
If you're going to couple the Blackmagic Studio with a URSA mini camera, then you can use color correction and remote camera control straight from the switcher. However, for you to use the switcher's more advanced features, you'll have to install an additional monitor for the needed multi-view function.
You also have the ability to use up to 4 HyperDecks and have them function as video servers from the ATEM software. Further, the software will allow you to set the HyperDecks for recording.
The Sound Blaster X7 from Creative is a highly capable and jam-packed quality amplifier that's extremely recommended for streamers who are new to the audio game. The Blaster X7 is basically a USB DAC/soundcard that provides Bluetooth streaming capabilities and a 100W amplifier with two headphone outputs.
This amplifier uses the same Burr-Brown PCM1794 digital-to-analog converter found on the company's previous high-end cards. When connected to a PC, this DAC is capable of supporting audio playback of up to 24-bit/196kHz, this also includes 24-bit/88.2kHz and 24-bit/176.4kHz.
There's a Dolby Digital decoder found on the sound card, which comes in handy for streaming and TV. However, if you're looking to decode Dolby Digital TruHD or DTS HD-Master audios, a graphics card that's equipped with HDMI is the way to provide amplifier is equipped with a Texas Instruments TPA6120A2 chip to provide an excellent headphone listening experience.
The X7 can drive high-end headphones that are up to 600Ω of impedance. The SB-Axx1 Digital Signal Processor is capable of Performing audio restoration, voice processing, proprietary effects processing, and also serves as a Dolby Digital 5.1 decoder. The EMU32 bus has the ability to process up to 32 concurrent audio streams at the same time, allowing the X7 to process multiple audio inputs and outputs.
While this amplifier is more geared towards PC use, it can be utilized for other devices through other means of connecting that include optical S/PDIF for your gaming consoles, USB for your mobile device, and RCA Line-In for analog. Such means are also available as recording inputs.
Unfortunately, there's no way of selecting inputs. But for outputs, on the other hand, there are 2-way binding post terminal connectors primarily intended for tower speakers and passive bookshelf, optical S/PDIF, and 5.1 analog outputs, along with a 1/4-inch and a 3.5mm headphone outputs.
It would only make sense to use Blackmagic Design's URSA Mini Pro Camera since we've already established that Tyler uses Blackmagic Design's ATEM Television Studio Pro 4K. This 4.6K offers increased functionality with an extensive control set.
The most prominent feature that distinguishes this model from the original URSA Mini is the addition of external controls. This allows you to change the exposure settings, engage focus assist, or activate slow/fast motion without the need to access certain menus.
Another notable difference is the addition of a monochromatic LCD panel on the exterior of the camera which helps display essential shooting data. The Pro model also features built-in neutral density filters.
You can switch between 2, 4, and 6 stops of ND using the 4-position wheel. Additionally, there's a clear filter for no exposure reduction. You'll find 2 SD card slots behind the LCD display, along with CFast 2.0 slots. The EF lens mount is interchangeable and easily adjustable for an ideal flange-focal distance.
The camera is equipped with Blackmagic Design's very own 35mm 4.6K sensor block that's capable of capturing cinematic images at a dynamic range that's rated at 15 stops with subtle gradients. The Mini Pro can record raw sensor data in cinemaDNG format onto CFast 2.0 cards.
The raw data maintains its color tonality and dynamic range acquired from the sensor. Additionally, the Mini Pro provides 3:1 and 4:1 compression ratios for compressed raw data, allowing it to save space and maintain flexibility.
Separately-sold accessories for this camera include the VCT shoulder pad, broadcast battery plate, side-handle extension, and EVF. For a studio setting, the VCT shoulder pad can be integrated with 15mm LWS rods for mounting lens supports.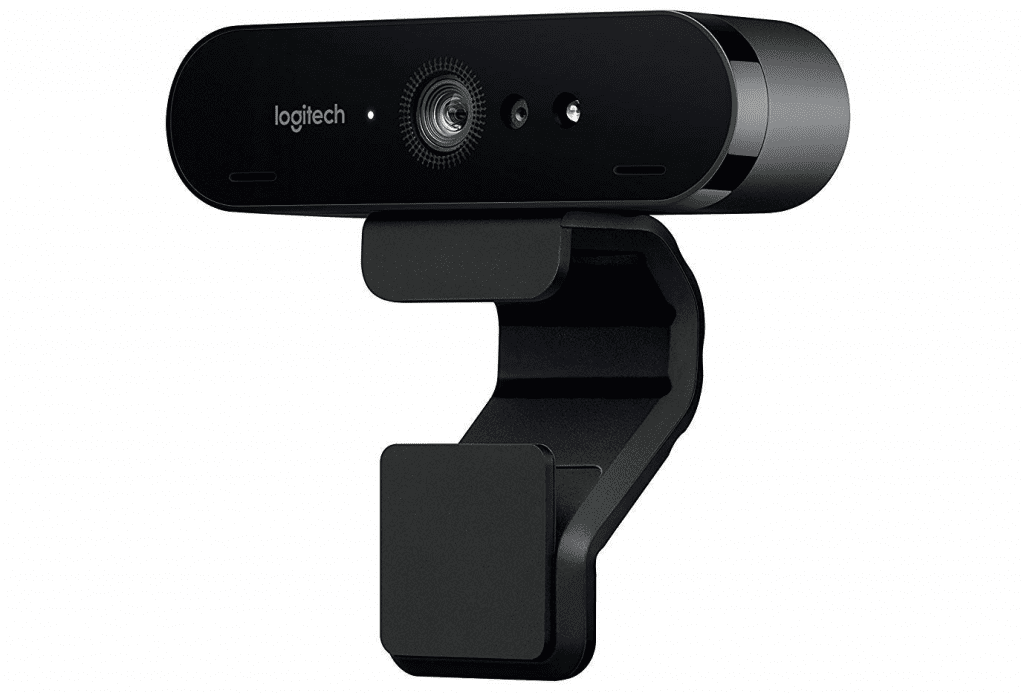 The Logitech BRIO is the very first mass-market HD webcam in the world and it's a true testament to how far webcams have developed since most webcams don't offer the type of quality that they claim to have. This one small package of a webcam is loaded with tons of professional-level features that help it produced videos in a stunning quality that will surely satisfy most users.
The BRIO features Ultra HD streaming capabilities that reach up to 4096 x 2160 pixels at 30 frames per second. Further, it's capable of streaming 1080p full HD at a rate of 30 or 60 frames per second, and 720p at 30, 60, and 90 frames per second. Mind you, that was out high-end monitor that supports 4K HD, you won't be able to utilize the BRIO's 4K capabilities.
Using Logitech's RightLight 3 with HDR allows the user to stream videos in a variety of lighting conditions that range from low-light to direct sunlight, and therefore enhance the quality of the video dramatically.
The BRIO also features plug-and-play capabilities with USB 3.0 Type A and Type C, and USB 2.0 Type A. For you to utilize the BRIO's full potential, you need to download the Logitech Camera Settings app from Logitech's official website, which will unlock the BRIO's control options such as contrast and brightness calibration, 5x digital zoom, panning, and white balance.
The app also allows you to pick between widescreen and standard display options or even change the field degree of view from 90 degrees to 78 or 65 degrees. The webcam also has a background replacement feature and 2 omnidirectional microphones equipped with noise cancellation.
As far as the design goes, Logitech has managed to fit all those features in a very slim and compact 4 x 1.1 x 1.1-inch design. Moreover, its aluminum construction grants it a very light weight of just 2 ounces. The BRIO has a simple layout that consists of the 4K lands right in between the dual omnidirectional microphones.
The webcam can be mounted onto a laptop or a flat screen via its rubber-coated arm. The clip of the arm is made of the hard plastic that allows it to lock tightly against the screen and firmly maintain the position of the camera. However, the arm itself is a little wobbly and might take some getting used to it first.
Overall, the mount is not the best compared to the C920 or the C922 but it gets the job done. Alternatively, you can also Mount the webcam on a tripod. The camera is accompanied by a detachable 4.9-feet cable. Also, there's a plastic privacy shutter and a microfiber drawstring bag to keep the webcam in.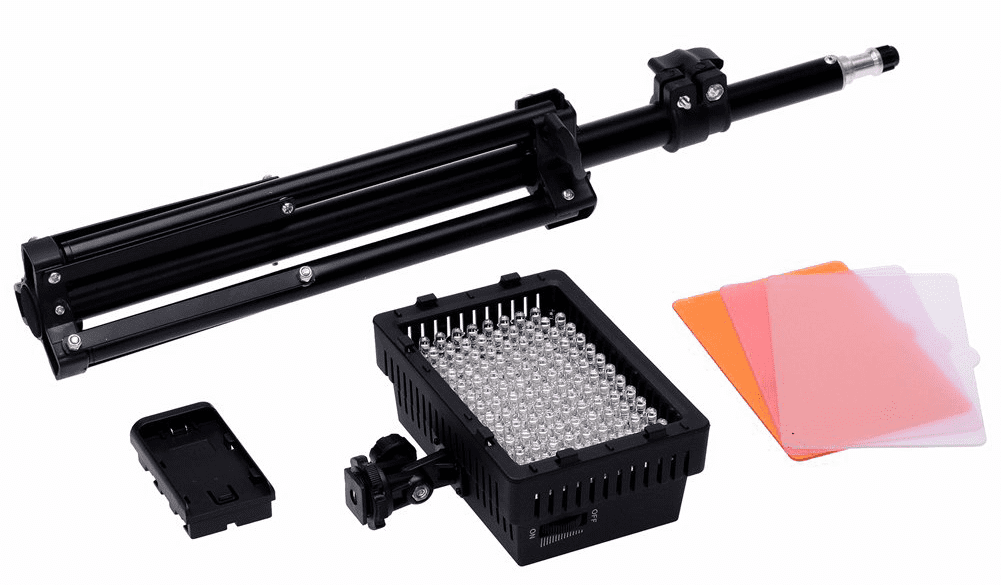 The CN-126 LED Lighting Kit from Neewer can adapt to a bunch of different digital video cameras and camcorders period you can utilize it as a table lamp, power cut light, or an industrial lab if you're not using it to light up your studio settings.
This kit comes with 3 filters for the diffuse effect, spotlight effect, and color temperature reduction effect. It also features a brightness adjustment function and a rotate on and off switch. The CN-126 adopt LED light that has an irradiation distance of up to 5 meters for long-distance shooting.
With this lighting kit, you'll have the ability to adjust the light concentration from a diffusing light which is preferred for short-distance shooting to a more concentrated light for longer distances.
The kit also features a 4-level indicator that allows you to check the status of the battery with a single touch. If the indicator shows 4 LED lights, then that means that the battery is fully charged, while 1 LED light indicates that the battery is running low.
The standard hot shoe plug it to be installed on DSLR or DV, and DC. The 32″/80cm light stand is suitable for the majority of strobe/flash light and umbrella reflectors. The stand also features an easy-flip locking system for safety and a 3-legs stage for ideal stability.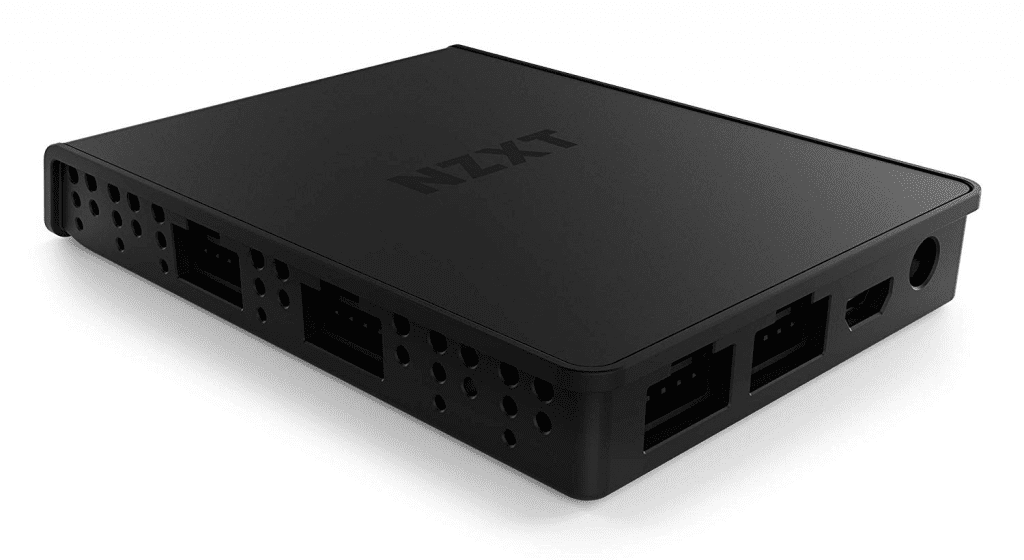 The HUE 2 is NZXT's great advancement in terms of PC lighting. The HUE 2 lineup of products is comprised of the main lighting kit, ambient kit, underglow, and Aer cooling bundles. For this article, we're focusing on the primary lighting kit for PCs.
The kit includes the control module through which you connect your LED products to your PC's motherboard, cabling, and LED strips. Everything you need is in the package, this includes a few velcro pads as reinforcement for a non-sturdy PC case. It's recommended to follow the installation manual before you hook it all up.
The RGB strips come with a pre-applied sticky pad in case you're installing them on a non-metallic surface since the strips themselves are magnetic. The optional cable combs help you feed through the motherboard and GPU cables because of how fiddly they are.
Each component of these lighting accessories has its very own controller for ease of adjustability, including the Aer fans, strips, and the cable combs. The lighting effects are controlled via the CAM software. For those who would like to customize each channel, it shouldn't take long to set up the HUE with CAM.
There are a few things that users might find irritating, one of which is the inseparable cable combs, they can't even be rearranged. You either use them all at one or not use them at all.
Another thing that this kit is lacking is motherboard support, meaning that you can't just plug the RGB strips into your motherboard right away. That aside, there are a few minor annoyances from the CAM software, it constantly asks you to create an NZXT account and the UI is sometimes a little clunky.
This USB Hub expands your system's connectivity with by providing 3 internal connectors and 2 external ones, all being USB 2.0. You can use these. You can use this hub to connect lighting accessories, liquid coolers, fan controllers, or any other USB-compatible device.
The Molex cable ensures sufficient power is being delivered to all the connected devices. The hub has a magnetic body and comes with cable management straps. It's also designed in such a way that allows it to be tucked away easily and quickly installed.
Spending countless hours playing video games without a comfortable gaming chair is probably the number 1 way to invite all kinds of back and neck aches. Maxnomic is known for their comfortable and high-quality line of gaming chairs, which doesn't come as a surprise to know that Ninja is using a Maxnomic chair. The Titanus is a chair designed for larger people, be it weight or height.
Setting this chair up is as easy as it can be. The chair has is made of high-quality PU leather that's basically a very durable vinyl and it has a solid base with a steel and wooden frame and some firm padding work that provides great support for the buttocks. The back is equally as sturdy as the base and it has wings for the side of your head and a comfortable headrest that can accommodate towering heights.
The lowest height of this chair is 14.5" and it can go as high as 18.5", which is perfect for tall folks and it should be fun for shorter gamers to have their feet dangling in the air. The arms are very flexible and can be easily adjusted when it comes to their height, side to side positioning, front and back positioning, and they can be tilted in or out for maximum comfort.
The tilting function can be locked its position to prevent movement, or it can be tightened or loosened depending on how you would like the chair to be tilt or rock. Moreover, the base is equipped with 5 caster wheels for ease of transportation.
The gas piston is extremely fluid without the hassle of moving up and down too quickly. If you're a large person who always struggled to find a commodious chair with a sturdy base, this is definitely the right product for you.
Tyler "Ninja" Blevins Bio
The insanely popular internet personality Tyler Blevins, widely known by his online alias "Ninja", of Twitch and YouTube fame, has had a massive impact on the gaming community and pop culture in general that has turned him from just a professional gamer into a celebrity recognized by almost everyone who enjoys gaming.
Ninja is the first Twitch streamer to reach over 10 million followers and also the first professional gamer to be featured on the cover of the ESPN monthly sports magazine. Tyler's rise to the top of the gaming world and the unprecedented growth of his channel is directly intertwined with his daily streams of the 2019 BAFTA games awards winner for the best evolving game and the nominee for the EE mobile game of the year, the highly popular Fortnite.
Developed by the American video game and software development company Epic Games and released in 2017, the online video game Fortnite has become a resounding success that draws around 200 million players worldwide. Fortnite is available in 3 different modes, each offering a different objective to accomplish. All 3 modes, however, share the same game engine and general gameplay.
The first mode is Fortnite: Save the World, where 4 players cooperate in fighting off zombie-like creatures and help each other shield certain objects from danger by building fortifications around them. Then we have the notorious Fortnite: Battle Royale mode, where 100 players have to fight it off until only a single player is left standing. Last but not least, the Fortnite Creative mode grants its players absolute creative freedom in constructing different worlds and battle arenas.
Both the Save the World and Battle Royale modes were released in 2017, while Creative was released in December of 2018. Fortnite: Save the World is available for Playstation 4, Xbox One, Windows, and Mac OS. Fortnite: Battle Royale is also available for the same platforms, in addition to iOS, Android devices, and Nintendo Switch.
Being the most popular Twitch streamer, many tend to wonder about the gear that Ninja uses and the game settings that allow him to be accredited as the best Fortnite player by many. This article is going to help shed some light on everything from his gaming and streaming PC build, to his gaming studio setup.
Conclusion
What a long journey this was, right? Doesn't it just make you wish for the good old days of Doom and Duke Nukem to come back? But with all seriousness, the days of just building a PC is dead and gone, the building process is now more of an expression of self through aesthetics, which is something that Tyler "Ninja" Blevins seems to be extremely passionate about.
Now, you do need to have an awful lot of money to build a similar computer, but you don't necessarily need the exact same build, you can just pick and choose which components compliment your current build and use it as an enhancement, just make sure that the component you're aiming for is compatible with your rig.
We hope that you were able to use the information we've provided in your quest of building your own supercomputer for intense and competitive gaming or for your streaming channel, or for both. Please, let us know if you have any new updates about Ninja's build.
Ninja Twitch Stream